Total Weight-7 Fish
Bud York/Andy Roberts
Lake Decatur 4/22/2017
9.59 lbs.
Big Fish
Frank Revell Jr./Matt Jones
Lake Shelbyville
2.17 lbs.
Welcome to Central Illinois Crappie Club
Well the weather was cold on November 26th for the Lake Shelbyville Club Tournament but the fishing Was hot hot hot. All the anglers that participated reported that the fish were plenty and even the big ones showed up for cameos and the weigh in. Congratulations to all those that came out and fished.
Results for November 26 Club Lake Shelbyville Tournament
No. Name # of fish Weight Big fish wt. Place
1 Zach Hari/Greg Kaiser 5 5.62 1.54 1
2 Matt Jones/Frank Revell 5 5.31 1.26 2
3 Shawn Shelby/Brian Cleland 5 5.22 1.06 3
4 Tom Fermanian/Rick Barnes 5 5.13 1.30 4
5 Jeffrey Cooper 5 4.87 1.18 5
6 Andy Roberts 5 4.09 .70
7 David Troike/ Jerry Coon 4 3.61 1.06
8 Caleb Peck/ Jenni Price 5 4.24
9 Jeff Voyles/Nate Herschberger 5 4.66 1.12
10 Scott Boston/David Radecki 5 4.63 .94
11 Dan Lange DNW
Central Illinois Crappie Club is having a membership meeting at the Sullivan VFW.
The meeting will be held on December 13th at 18:00. CICC will be providing dinner.
We will have a 50/50 drawing, a raffle for several items and a surprise giveaway.
We will also have a brief overview of ideas for our club to adopt and move forward.
I would ask that you rsvp by December 6th if you are able to attend our meeting.
Tony Jezek - President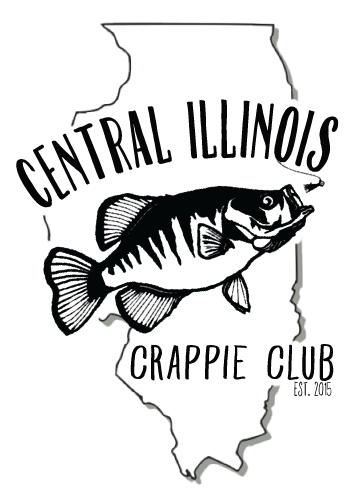 The Central Illinois Crappie Club is a nonprofit organization formed in April 2015 with a goal of creating a fun and friendly fishing atmosphere for both the recreational and the competitive crappie anglers.
FOr REcreational & Competitive Crappie Anglers
We encourage the sharing of tips and techniques with our fellow members.