Sponsor Opportunities
Please visit our SPONSORSHIP page to inquire about sponsoring our club.
Upcoming Events
October 2: Kids Fishing Rodeo
October 16: Lake Decatur OPEN
October 29: Lake Shelbyville CLUB
November 12: Clinton Lake CLUB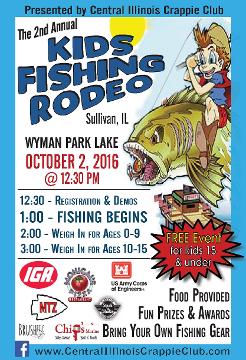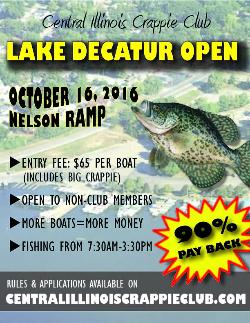 Welcome to Central Illinois Crappie Club
We are a non profit organization that plans to create an environment that accommodates the serious fisherman along with the recreational fisherman.
The club will promote openness from tournament participants by having them share their ideas, techniques, and particular gear used after each event.
The club will present seminars throughout the year covering a wide range of fishing topics and will be determined at each executive meeting.
The club will promote kid friendly environments by allowing any child under 16 to join any 2 man team for any tournament.
The club will also promote family friendly environments by having a fish fry after certain events.
The club will also promote participation for those interested in joining the tournament circuit by holding informal events to hone your fishing skills and learn how tourney events work. When you are ready to move to the big circuit we will welcome you aboard.
Fall 2016 Fishing Schedule
October 16 (Sunday), Lake Decatur (Nelson Ramp), OPEN, 7:30 am - 3:30 pm
October 29 (Saturday), Lake Shelbyville (Bo Wood), CLUB, 7:30 am - 2:30 pm
November 12 (Saturday), Clinton Lake (Marina), CLUB, 7:30 am - 2:30 pm
Times may be adjusted to accommodate daylight hours. Open tournaments will payback 90% of entry money. The club will keep 10% to help with the costs of the club. Club tournaments will always pay back 100% of entry money received.