March 31 Clinton Club Tournament
The first tournament of CICC is in the books. On a chilly Sunday morning, shortly after the advance of a cold front, 20 boats entered the tournament. The consensus at launch was that the weights would be somewhat low. The participants did quite well, however, with more than half of the field weighing in excess of 4 pounds. The winning weight also broke the 5 lb barrier with the team of Rich and John Goodbrake weighing 5.47 pounds. Brian Cleveland and Terry Davis weighed 5.02 lbs of crappie for second-place. Third place went to the team of Josh Nash and Dustin Reynolds with a weight of 4.98 lbs. Andy Roberts brought in 4.59 lbs for fourth place.
The only minor competition of the day was apparently for 10th Pl. with three teams within 0.01 lbs of each other. Unfortunately, the team of Marty Lehew and Kevin Scoles were originally missed and will be rewarded $35 for 10th Pl.
The next club event will be at Lake Decatur on April 14. Hopefully it will be a calm sunny day and participants will break current club records.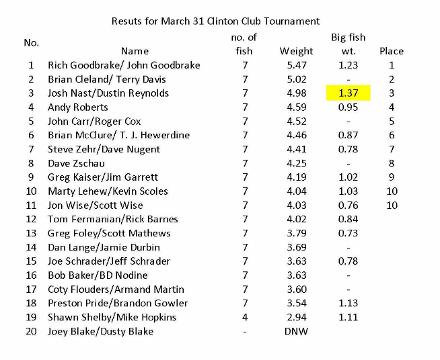 April 20 Exelon Clinton Open Tournamen
Before we announce the winners, the Central Illinois Crappie Club sincerely thanks the Exelon Corporation for their tremendous support and sponsorship of this event. Exelon (Kathleen Brewer) provided lunch at the weigh-in and made sure that everything went well for the day.
To say it was a tough day fishing is a gross understatement. Winds generally blew out of the northwest at 15-25 mph but seemed to change directions regularly. Of the 32 registered boats only 17 brought fish to the scales. Only 6 teams presented 7 fish.
Steve Zehr and Dave Nugent were the winners with a 7 fish weight of 4.44 lbs. Second place was not far behind with Terry Davis and Josh Nash weighing 7fish at 4.41 lbs. Third place went to the team of Dave Zschau and Fred Hackney with a weight of 4.40 lbs for 7 fish. Jeff Revell and Phillip Wood had 4.14 lbs for fourth place. There was a tie for fifth place with the teams of Ben Henrich and Luke Storm and Greg Humphrey and Luke Humphrey at 4.07 lbs. The team of Greg and Luke Humphrey also brought in the big fish of the day at 1.59 lbs.
Despite a chilly, windy start to the tournament everyone seemed to enjoy the competition and fellowship. Our next tournament is currently scheduled for Saturday, May 11 at Lake Mattoon.
This is a club tournament with the results adding to the Angler of the Year Competition. The next mega tournament is on Lake Shelbyville on Saturday, May 18 with a $1500 first prize.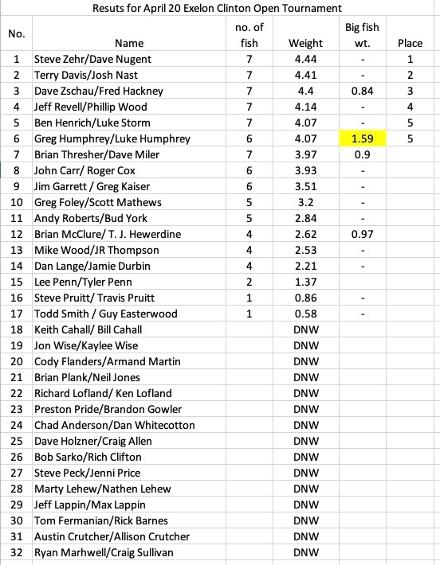 2019 Saturday May 11 Lake Mattoon Club
At the start it appeared to be a sunny relatively calm day. Participants weren't that lucky as the weather cooled and a slow drizzle started in the late morning. It was the first time on Lake Mattoon for several boats in the tournament, but there were also some experienced teams. Six boats competed for 3 places in this club tournament. Each team that weighed fish brought in 7 fish. The team of Jim Garrett and Greg Kaiser won with a weight of 6.49 lbs. also taking home big fish at 1.06 lbs. John Carr and Roger Cox were next at 6.25 lbs. Tom Fermanian and Rick Barnes took the last check at third place with 5.73 pounds.
We again ask all participants to notify a director if they are not going to weigh fish. The club is always concerned for the safety of any participants who have not been verified to have left the lake. Please tell a participant or club official that you are not going to weigh fish and plan to leave.
The next club event will be at Lake Shelbyville on May 18 at the Bo Woods ramp. This is one of our major open spring tournaments with first-place guaranteed at $1500. Hopefully it will be a calm sunny day and participants will break current club records.

2019 Sullivan/Moultrie Crappie Classic
It was a wonderful day for fishing on Saturday, May 18 for the second annual Sullivan/Moultrie Crappy Classic. There were 40 boats participating in the tournament with 35 teams weighing 7 fish. The winning team of Shawn and Trent Trudeau had 8.09 lbs. and a big fish of 1.43 lbs. Second place went to the team of Bob Sarko and Rich Clifton with a weight of 7.54 lbs. Frank Jr. and Jeff Revell came in third with a weight of 6.84 lbs. Fourth-place went to the team of Brian Plank and Neil Jones with 6.57 lbs. Brian Carter and Michael Drake came in fifth with a weight of 6.42 lbs. The team of Cody Flanders and Armand Martin weighed the biggest fish at 1.45 lbs. Over 20 teams weighed more than 5 lbs. of crappie despite a relatively strong breeze for most of the day.

The club is trying to return all fish that are weighed back to each tournament lake. More than 90% of the fish that were weighed in this tournament swam away to be caught in future competitions. This will only help to make Lake Shelbyville a premier crappie lake.

We sincerely thank Laurrie Minor, Malinda Calhoun-Hurt and the Sullivan Chamber & Economic Development for all their hard work and support that made this tournament a success. We also think Mike Mounce, Jon Summers and the Shelbyville Corps of Engineers for their continuing support.

The next club event will be at Lake Shelbyville on June 2 at the Bo Wood ramp. This is the last scheduled tournament for the club for this spring.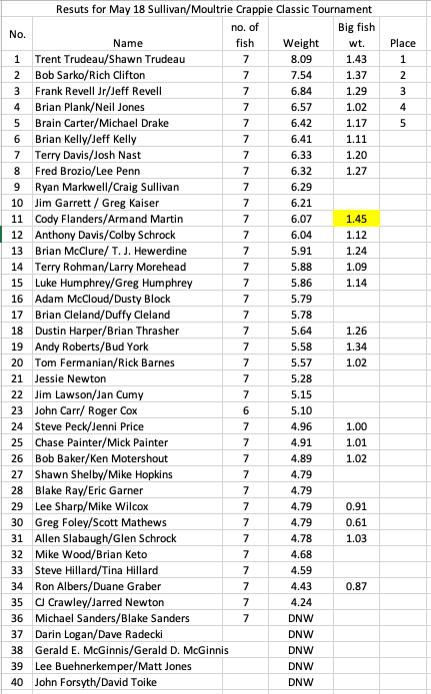 2019 June 2 SHELBYVILLE Club
While it was a beautiful day to be out on the lake, the fishing part was not so good. Whether it was the weather or post-spawn stress the fish seemed very neutral and tight to cover. The good news is 20 boats participated in the tournament with several boats including a youth. The club encourages youth participation in all tournaments and there are no additional fees. There are usually additional prizes for the youngsters of winning teams.

Thirteen boats each weighed 7 fish. The winning team of Brian Cleland and Dave Birch had 5.88 lbs. Second place went to Shawn Shelby and Mike Hopkins with 5.87 lbs. This is a good illustration of how competitive the club tournaments can be with the runner-up 0.01 lbs behind the winner. Third place went to Jim Garrett and Greg Kaiser with a weight of 5.75 lbs Tony Camden and Jeff Sidwell took 4th place with a weight of 5.20 lbs and also captured big fish at 1.11 lbs. Brian and Jeff Kelly came in 5th with 4.84 lbs. Brian McClure and TJ Hewerdine were sixth with 4.63 lbs. Unfortunately, TJ had an Engel cooler disappear from his boat and would like to hear from anybody that might know more about the incident. Teams that placed from 7th through 10th also received a $35 check.

The club will be sponsoring one more club tournament on June 30, 2019 on Lake Shelbyville

launching from the "Bo Wood" ramp. This will be a shortened tournament ending at noon so we can have a fish fry and social event at the Park Pavilion near the ramp. More information will be announced when we receive the permit from the DNR.