Our 2017 Youth Fishing Derby is scheduled for
Sunday, September 17, 2017 @ Wyman Park Lake in Sullivan, IL.
Registration and demonstrations begin at 12:30. A liability waiver MUST be signed by a parent/guardian for EACH participant BEFORE fishing begins and a parent/guardian MUST BE PRESENT throughout the tournament. Please bring your own fishing gear.
Fishing starts promptly at 1:00. We will have two age divisions:
Ages 0-7 will fish for 1 hour, weighing in at 2:00
Ages 8-13 will fish for 2 hours, weighing in at 3:00.
There will be prizes and awards for each age group.
What a great time everyone had last Sunday at our 2017 Kids Fishing Event!!! We had a great turnout, the weather cooperated, and everyone had fun. The tournament scales were exciting for the kids to see and everyone received a prize. Congratulations to the winners!!
0-7 - Most Weight - Clayton
0-7 Big Fish - Sully
8-13 - Most Weight - Ethan
8-13 - Big Fish - Mikayla
I am going to try and highlight several of the people and companies that were involved. Make sure to thank them the next time you see them or use their businesses!!
Andy Roberts - Hand tied lures, Cooking and Setup
Bud York - Tackle Boxes and Jigs, MC, Setup and interviews
Chips Marine - Lures, Bait and fishing Rods
Dave Radecki - Helping at the Pavilion
Greg Foley - Fish release, Food, and cooking Hot Dogs
GSI - Roger Cox - Weigh in buckets
Harvest Clean - Greg & Luke Humphrey - Bottles of hand cleaner
Hello Sunshine Designs- Erika Phillips - CICC Swag, Helping at weigh-in
Illinois Printing Services - Kelsey Binder - Flyers and Trophies
Jenny Price and Steve Peck - Tackle Boxes, Walmart gift cards, and cookies
Jim Lawson - Weigh-in buckets
John Carr - Weigh-in, Fish release, Pavilion
Levi Goodbrake - Checking in participants and handing out ribbons
Louis Jordan - Helping at Pavilion
Rick Clifton - 50/50 back to the event
Steve Welch and Charlie Brewer - Mugs, Stickers and Slider lures
Sullivan IGA - Hot Dogs and Buns
Sullivan Monical's Pizza - Gift Cards and pizza bags
Tom Fermanian - Running Scales, taking pictures
USACE - Ashley Florey - Safety Presentation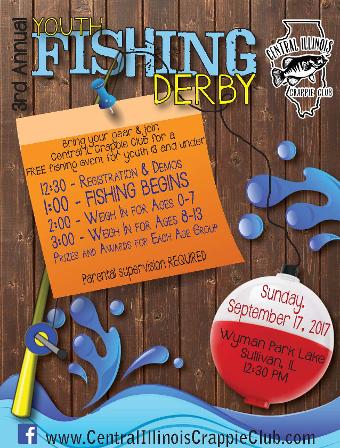 The 2016 Kids Fishing Rodeo took place on October 2, 2016 @ Wyman Park Lake in Sullivan, IL.
We had over 60 kids attend, about 35 in the 0-9 age group and 25 in the 10-15 age group.
The winners of our 2016 Kids Fishing Rodeo were:
0-9 Age Group Biggest Fish: JJ Howell
0-9 Age Group Most Fish: Carson Nixon
10-15 Age Group Biggest Fish: Noah Marlow
10-15 Age Group Most Fish: Levi Goodbrake
Congratulations to all the kids for catching some amazing fish!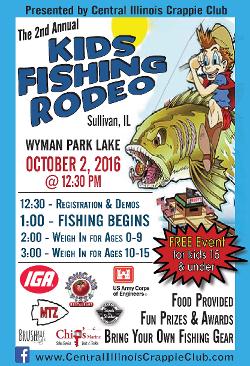 2015 Kids Fishing Rodeo - 10/12/15
The winners at our Kids Fishing Rodeo were:
Most Fish: Brian Jancaitis
Biggest Fish: Elora Mast
Smallest Fish: Brian Jancaitis
Most Weight: Brian Sharp